Responsibility for the world of tomorrow
For a family company like frischli, sustainability and environmental protection are not just trend terms – they have a tradition. For over 100 years, we have been making our living from the natural product milk. This means that we are aware every day, that we must do everything we can, to maintain this natural resource, conserve nature, and leave a world behind for future generations, that is ecologically, socially and economically intact.
Company and environmental policy
Whether production, supply channels or waste disposal – we always ensure that we burden the environment as little as possible, and use resources sparingly. This means that we are committed, to adhere to all environmental and energy law requirements, and continually improve our system.
Every day, we are working on systematically reducing our specific energy consumption, and increasing the energy efficiency of our processes. In order to achieve these goals, we introduce an energy management system at all sites, in accordance with the standard DIN EN ISO 50001, and ensure the implementation and adherence to the requirements of this standard.
Milk production and ecology
We not only demand sustainable thinking from ourselves and our employees, but also the 1,300 farms that deliver their milk to frischli. They live from and with nature – and by handling their animals and the environment responsibly, they make an important contribution to the future sustainability of their operations, and the quality of our products.
Our farmers have recognised the signs of the times, and modernised their operations accordingly. For example: For almost 90% of our Lower Saxony milk suppliers, the percentage of permanent pasture is more than 20% of the total agricultural land. Over 90% keep their cows in free stall barns, and have separate calving bays, or sick stalls for the animals, which require special treatment temporarily.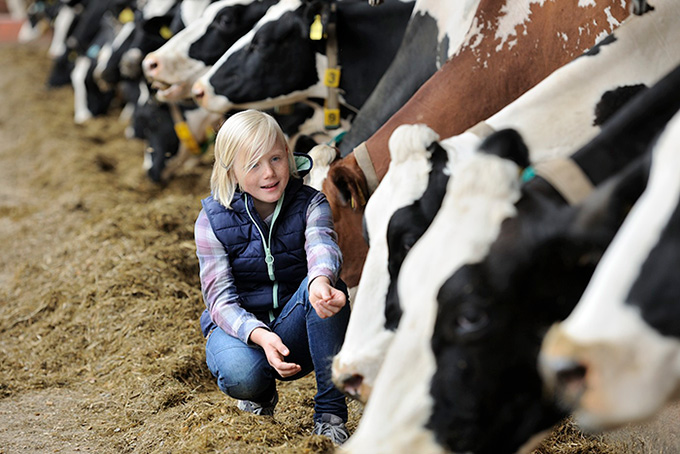 Resource-saving production
In the scope of our certified energy and environmental management system, we create annual environmental programmes for our three factories in Rehburg, Weißenfels and Eggenfelden. These contain an overview of all important annual goals, and activities to save natural resources. The environmental programme 2014/15 contains a total of around 90 individual measures, which should be processed and implemented in the course of a financial year.
We check the adherence to the legal regulations annually, in the course of internal audits (compliance audits).
In a leading function in industry associations, we are committed to the development of environmental and sustainability standards for the milk and dairy industry.
We cooperate with public authorities, in the development of industry standards with regards to the "best available" technology, in terms of energy and resource consumption.
Investments in environmental protection
At frischli we always see sustainability as an interaction of economy and ecology. Because, what saves resources, ultimately also saves costs. This can particularly be seen with investments, that we make in modern and efficient plants.
Therefore, in the past few years, we have invested in the expansion and rationalisation of all three sites on a large scale. A good €4 mil. went into measures to protect the environment. These were primarily measures to save energy and water.